EuroMillions Prizes
(and how to win 'em)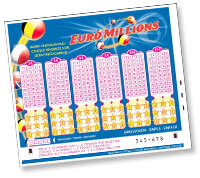 There are twelve categories of EuroMillions prizes, including the jackpot. Each category is dependent on how many of your numbers match those that have been drawn for the week, with fewer numbers winning smaller prizes. If there is no jackpot winner, the amount rolls over to the next week, and keeps rolling over until someone wins the jackpot or it has rolled over for twelve weeks.
Prizes are distributed between all winners. That means, regardless of the amount of the jackpot, if there are multiple winners, they must split the winnings evenly. One jackpot, for €96.5 Million, was won by 16 people. They each received 6.4 million. This may not be the full jackpot but people are not usually too concerned with that considering the amount they get.
Dolores McNamara Wins €115 Million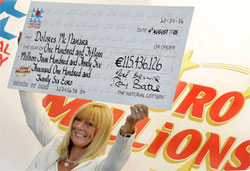 The largest of the EuroMillions prizes ever awarded until recently was claimed by a woman in Ireland. Dolores McNamara won an eleven week rollover jackpot valued at €115,436,126. She took home her prize making her the 72nd richest person in Ireland. Her ticket was bought about a half mile from her home, using the quick pick method where the machine picks random numbers for you.
For Dolores and her family, the sudden fortune has not been as wondrous as you would think. Soon after she won, death threats and kidnapping attempts started coming at her and her children, forcing them out of their homes and into hiding. She eventually moved into a much larger house, and had a state of the art security system installed. Remember to decline the publicity option when you win!
World's Biggest Lottery Winner
In May of 2009, Dolores' record was broken when a woman from Spain won a jackpot totaling 126 million Euros. At 25 years old, she will now never have to worry about money again. The woman bought her ticket online, and then became ill. She did not find out she had won until she went to work Monday to avoid losing her job.
Although still sick, she was struggling through her day in order to keep her job in a tough economy when she got a call from the online dealer that had sold her the ticket. As of May 14th she had not yet collected her winnings, but she will soon be on the list of lucky people who have changed their lives for the price of a cup of coffee.
So How Do I Win
EuroMillions is changing lives all over the world. And while the chances of winning the big money are normally very small - 1 in 116,531,800 - there are many other prizes, and you can join a EuroMillions syndicate to boost your chances of winning. Or if you specifically want to buy tickets here's a guide to buying them online.
More Lottery Questions Answered:-
What Is A Lottery Syndicate?
What Countries Play EuroMillions?
How Does EuroMillions Millionaire Raffle Work?
How To Play EuroMillions?
Should I Switch To Canada Lotto Max Or Stick To Lotto 649?