USA Lottery Syndicates
There are 38 US states currently allowed to run lottery games. Some run their own lottery draws. But the multi-state Powerball and Mega Millions continue to draw huge interest due to their vast jackpots.
Read more about the USA and lotteries below, or jump straight in to our syndicate reviews here:-
US Lottery Syndicate Reviews
Rating
Click For Review
Summary
US Lottery Syndicates

stars

WinTrillions Powerball and Mega Millions Syndicate
A 'big draws' syndicate covering SuperEnalotto and the US Powerball and Mega Millions in one package.

stars

Florida Lotto Magic
A decent syndicate with some great extra bonuses worth more than the membership fee! Plays Florida Lotto and Powerball.

stars

Texas Lotto Club
A decent syndicate option if you want to play 'Lotto Texas'. Lack of transparency may concern some.
Want to list your lottery syndicate? Submit it for review here.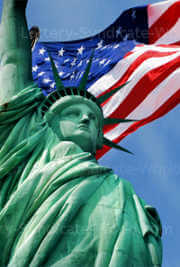 The US Lottery - A Little Background
38 US states currently run their own lottery. There are some additional games shared across multiple states, plus some games such as Powerball and Mega Millions shared across many states. Nearly $39 billion of sales were seen in 2001, providing a valuable contribution to state income and funding for everything from Health and Welfare to Education.
The largest prize to date was won by a syndicate of 13 machine shop workers in Ohio. They shared a lump sum payment of $161,496,959 - that's over $12 million each!
Contrary to popular belief, you are actually much more likely to win the USA lottery than get struck by lightening! But I still don't recommend standing under a tree in a thunderstorm - although I do recommend playing the lottery in a syndicate to give luck a little helping hand!
Playing In A Syndicate
The idea is simple. Instead of buying individual tickets, everyone pools their money to buy lottery tickets every week. The winnings are then shared equally. The more members involved, the more tickets you can buy - and the better your chances of winning. The flip side of course, is the more members you have, the smaller the share of the prizes. This balancing act is important.
Many offices or groups of friends run their own small syndicate (read lottery pools and how to start a lottery syndicate if this interest you). These can be great fun, but sometimes your employer won't approve, or you just don't have enough people.
If you're wondering why there aren't more USA lottery syndicates, it's partly related to concerns over the definition of 're-selling' tickets. Only authorised vendors may sell tickets in the USA, and although a lottery syndicate does not sell you tickets, organisers appear discouraged. The UK is more relaxed in this area so if you fancy a share of one largest tax free lump sum jackpots in the world, consider a UK Lotto Syndicate.
Why Are There So Few Syndicates In The USA?
Things now look pretty bleak for US syndicates. President Bush's 'anti-internet gambling' law introduced back in January 2007 seems to have effectively killed off most of the small syndicate operators in the US, and some operators in other countries are reluctant to accept US players too. It wasn't what this law was intended to do, lottery pools just got caught in the crossfire.
It does seem a fairly crazy situation that it's OK to have an entire city based purely around gambling (Las Vegas), massive state run lotteries in nearly every state in the country - yet running a lottery syndicate via the internet is a bad thing..!? Write to your Senator folks!
Powerball & Mega Millions
Despite the terrible odds, these remain incredibly popular in the USA due to the enormous rollover jackpots they produce. (Read more about these games on our blog here: Powerball Lottery and Mega Millions Lottery)
More About Lottery In The US
Closed Syndicates
(for reference only):
Rating
Click For Review
Summary
Closed - Archived

stars

Lottery Pools Win
Straightforward amateur pool playing Mega Millions and Powerball.

stars

YoYo Lotto Pool
Plays the California Lottery, New York Lottery and Mega Millions. But makes exactly the same mistakes as the recently demised Xzotto.

stars

Xzotto.com
The lottery pool that isn't a lottery pool. Xzotto is a confusing mess with little of any value to offer.

stars

Group Play
A passable syndicate system tailored more toward infrequent group lotto entries.

stars

Lotto Busters Club
Tennessee based Powerball pool, nicely done. Worth a look.

stars

Virtual Lottery Pool
Decent Powerball pool with no charges at all.

stars

Big Powerball Pool
Well balanced syndicate at a good price, playing the Powerball lottery.

stars

'20 Chances'
A decent syndicate marred by small syndicate groups, and just too expensive to recommend.

stars

Heron Aerospace Lottery Pool
A very low cost New Mexico based pool playing the Powerball.