Irish Lottery Syndicates
The Irish National Lottery main draw is a 6 from 45 game. That is, you choose 6 numbers on your playslip, from the numbers 1 to 45. Match 6 numbers and you win the jackpot of a guaranteed minimum prize of €2 Million.
As far as lottery odds go, that's a pretty decent 1 in 8,145,060 chance of winning, making the Irish Lotto an interesting game for syndicates.
The Reviews
Rating
Click For Review
Summary
Irish Lottery Syndicates

stars

LottoLand Syndicates
LottoLand now offer syndicates for the Irish Lotto amongst lots of other game choices. Good value for money and even a choice of how many tickets you want to play.

stars

WinTrillions Irish Lotto Syndicate
Reasonable syndicate for the Irish Lotto from a company that has been managing ticket buying services since 2006.

stars

Elotto Review
More of a results checking and syndicate management service really, but potentially useful if you run your own Irish group, or would like to.
More About The Games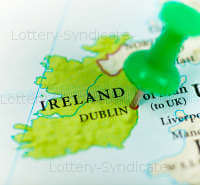 Ireland runs a number of different games, with the main Lotto game drawn every Wednesday and Saturday being the most popular. Alongside EuroMillions of course which is hugely popular in Ireland and all over Europe. (You can find the EuroMillions lottery syndicate reviews here)
Lotto itself costs €1.50 per panel to play, with a minimum purchase of 2 panels (so €3).
But they also run a few add-on games too. Lotto Plus adds an extra two draws (imaginatively named Plus 1 and Plus 2), for which you can tick a box on your playslip to also play your main Lotto numbers for these extra draws too. This costs only 50c extra to cover both extra draws.
Due to the popularity of EuroMillions, they have also added on a 'Plus' game here too, called EuroMillions Plus. Tick the box to add this to your main entry and your 5 main selected balls go into the supplementary Plus draw for a cost of €1 per panel.
Then we also have Daily Million. Which, and you have to give credit to them for clearly naming their games, is drawn every day and has a jackpot prize of €1 Million. This one is a 6 from 39 draw and costs €1. There is no rollover for this game however so the jackpot is fixed.
Of course Daily Million also has a 'Plus' add-on game (surprise!), which is an extra 50c, with prizes up to €500,000.
And finally there are also some less interesting games in the form of Lotto 5-4-3-2-1, Telly Bingo and the usual scratch cards.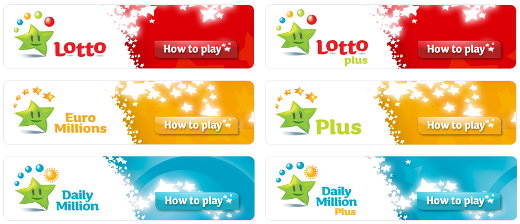 The Odds & Prizes
The jackpot for the main Irish Lotto game doesn't get quite as big as some games, which is obviously the trade-off for it being much easier to win. But it always starts at €2 Million, and regularly reaches €5 and €6 Million. Most of us would be quite happy with that, even if we did have to share it.
These are the odds for the main Lotto draw:-
| Match Numbers | Odds | Estimated Prize |
| --- | --- | --- |
| 6 | 1 in 8,145,060 | €2 Million (min) |
| 5 + Bonus | 1 in 1,357,510 | €25,000 |
| 5 | 1 in 34,808 | 5.38% prize pool |
| 4 + Bonus | 1 in 14,290 | 1.35% prize pool |
| 4 | 1 in 733 | 8.30% prize pool |
| 3 + Bonus | 1 in 579 | 5.53% prize pool |
| 3 | 1 in 44 | €5 |
The prizes for Plus are much smaller, but they are fixed, so you don't share with everyone who wins the jackpot. Plus 1 pays a jackpot of €350,000, and Plus 2 is €250,000. There are no rollovers here though.
They also pay out smaller prize tiers ranging from a free scratch card for matching 3, up to the €3,500 for 5 plus the bonus.
For EuroMillions Plus the prize is a fixed €500,000 for matching all 5 main numbers drawn. Due to playing with only the main numbers and not the lucky stars, this game is a 5 from 50 draw making the jackpot odds 1 in 2,118,760.
Daily Million as a 6 from 39 game gives you odds for that €1 Million jackpot of 1 in 3,262,623.
A Little History
The first Irish lottery draw was 16th April 1988. And originally it was a 6 balls from 36 game - almost easy to win compared to some lottery games!
It then graduated to being a 6 from 39 game in 1992, then moved on to become a 6 from 42 game in 1994. And finally reached the current 6 from 45 game in November 2006.
Largest Irish Lotto Jackpots
One of the biggest Irish jackpots stood for over 12 years. €9,505,290 was won on 2nd November 1996. But it wasn't until the switch to a 6 from 45 game that the jackpots started beating this record.
The largest ever went to a syndicate of 16 people on 28th June 2008. They shared a jackpot prize of €18,963,441.
This is a great game for a lottery syndicate, so it comes as quite a surprise to find only a few seem to be available online. If you run one, do tell us, because people are waiting to join!
News
12 Sep 2013: Ireland claims it's 5th EuroMillions jackpot. A regular player since the game launched the anonymous male won a €12.8 Million.
5 Jul 2013: €94 Million win goes to an Irish EuroMillions player, who overnight has become the 96th wealthiest person in Ireland.
25 May 2013: Guaranteed €10 Million on the main Lotto draw tonight.
2 May 2013: Simon Fagan claims last weekends Lotto jackpot of €3,595,558.
30 Jan 2013: The studio gets a makeover and adds some extra sparkle to the TV draw show.
29 Jan 2013: Lotto rolls over again and tops a heady jackpot of €10.5 Million for 30th Jan draw.
Official Irish Lotto Website
It used to be quite difficult to spot the official site, but thankfully after a much needed redesign and update it does now look a lot more professional. you can find the official site here at www.lottery.ie. If you're not familiar with it, the .ie is the official country code for websites in Ireland.