Lottery Tips Without The BS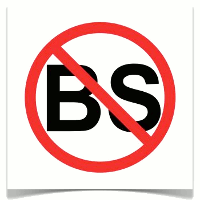 Gimme a break eh! Go looking for lottery tips and you get garbage. Great big shovels of horse manure. Well, it ends right here...
I'm sick of reading all the clueless lottery advice from people in forums or on blogs. Everybody has a different opinion, and most of them are wrong anyway!
Typical Lottery Tips... AKA Garbage Advice
Just take a look at a typical discussion from a lottery forum. 'Lottery Player Bob' just wants a little helping hand. It's been a long time since he won anything on the lottery, he plays the same numbers every week - so why hasn't he won yet?
In come the 'helpful' replies - BAM...
And 'Lottery Player Bob' becomes Very Confused & Misled Bob!
Here's a summary of the junk advice he gets:-
Change your numbers as the ones you have picked are obviously bad selections.
Keep those numbers, they're bound to come up eventually.
What you need to do is create a spreadsheet of all the past results for that game, and work out which numbers are drawn most frequently - but use only 4 of those, and 2 of the ones that haven't appeared for ages as they are due soon... blah, blah...
Like he said, but only use the last 3 months results. That's the only way to spot useful patterns.
Make sure your numbers add up to a total of around 150, because 88% of all lottery results fall in the range 100-200.
Buy 'Lottery Predictor 9000 Plus', I didn't win a thing till I started using it, it's the best ever.
Ha, she gets paid for selling that software. Get 'Lotto Buster 3X', it's much better, and half the price. I win almost every time with it.
You need the Lottery Grey Book. This guy got shot in the head 3 times and then won the lottery, he really knows his stuff.
And so it goes on.
All Lottery Player Bob wanted was a few simple lottery tips. Instead he got a big old pile of conflicting confusion.
Just in case you're unsure. All of that advice was total rubbish. If you started noting any of those down to use later, then you need my lottery tips real bad!
Blogs And More Damn Lies
Think you're safe with blogs? Even those from 'respected' lottery authors?
Not a bit of it.
One respected author who has been selling lottery books for over 30 years will happily tell you to 'never play 6 consecutive numbers because they have never been drawn before'.
Fact is, there are MILLIONS of combinations that have never been drawn. But nobody makes a big thing of those because they don't make a nice pattern like 15, 16, 17, 18, 19, 20!
It's just a matter of time before a results like this is drawn. There are MILLIONS of possible results - and only a few thousand draws have ever been made. So it's no surprise really it hasn't happened yet.
UPDATE: Guess what, on 21st March 2011 the Florida Fantasy 5 lottery results were: 14, 15, 16, 17, 18. Impossible right? Pah.
No More Lottery BS
So, right here and now I declare the end of lottery BS.
It's time to expose all the silliness, and downright fakery of those junk lottery systems, the lottery gurus, the so-called experts and the well-meaning yet misguided.
I've put together a free guide of 'What Really Works' when playing the lottery. Which just as importantly covers all those things that really don't work.
Join my Anti-Lottery BS campaign. Just enter your best email address below, and I'll send over my free lottery tips guide.
I'm bound to think of (or come across) more blatant lottery BS as time goes on. So I'll try to keep you updated on that too. But don't worry, I won't be bombarding you with emails - I'm far too lazy for that :-)
Enter your email below to get the free guide.