LottoLand Winners
They've only been going for a few years yet online lottery company LottoLand can already claim some really nice winners stories.
23rd December 2016 - EuroMillions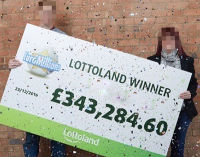 Siblings Joe and Sarah who live in Hampshire, UK pick up £343,284.60 from betting on EuroMillions (second tier prize) with LottoLand.
22nd December 2016 - El Gordo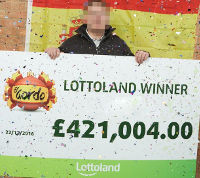 Jack, West Midland, UK receives £421,004.00 after hitting a second tier prize from the Christmas El Gordo. He also used the 'DoubleJackpot' feature so his prize was actually doubled.
8th June 2016 - US Powerball
Repeating Gary's luck from just last week Geoff Walker of Leicester, UK wins £34,000.
1st June 2016 - US Powerball
Gary Fletcher had been playing the UK Lotto for many years - but the best he'd done was 'a couple of tenners'. His first time betting on the US Powerball with LottoLand and he collects £34,685.35.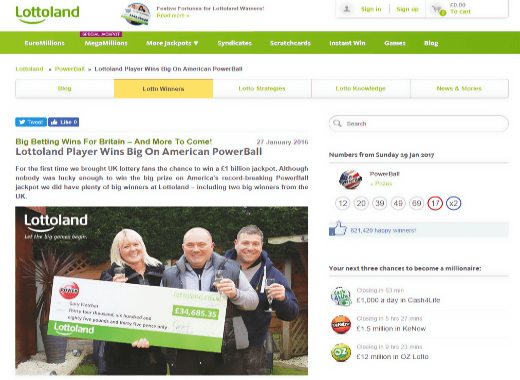 30th April 2016 - German Lottery (6aus49)
Another jackpot win. This time for Matthias from Berlin, Germany. He collects €22 Million. So far Matthias remains the biggest single LottoLand winner. His plans include quitting his job, lots more family time, some charitable donations. Oh, and a nice Ferrari for him ;-).
9th March 2016 - German Lottery (6aus49)
A serious jackpot win of €14.04 Million for Michael from Dresden, Germany betting on the German 6aus49.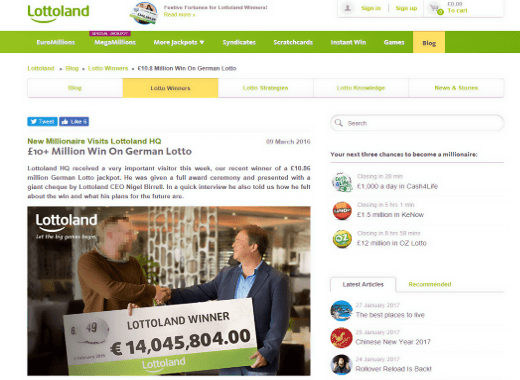 13nd January 2016 - US Powerball
An unnamed player wins USD$2 Million from a second tier prize after bettin on the record-breaking jackpot draw for Powerball.
22nd December 2015 - El Gordo Winners
Five players formed their own sydicate and played together by betting on the big El Gordo Christmas draw. Their group shared a prize of £2.8 Million, paying them around £560,000 each.
"I received Lottoland's email and then I double checked it on the website - then I felt a little queasy. I couldn't believe it!"
2nd October 2015 - Polish Lotto
Adam S., a truck driver from the Midlands, UK collects a huge £1,840,084.71 cheque from LottoLand representative Chris Tarrant after a bet on the Polish Lotto. As featured in The Mirror newspaper.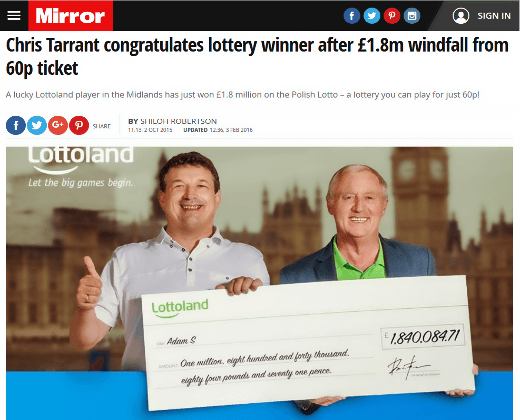 More Information:-
LottoLand Offices - watch a short video featuring the CEO at their offices based in Gibraltar.
LottoLand TV Advert - people in the UK you will know this ad. For anyone that doesn't here it is.