AusLottoGroup Review
Describing itself as a 'Members Only Site', AusLottoGroup (previously called Algmo) is a quirky syndicate run by Grenville Silvester, and based in Victoria, Australia.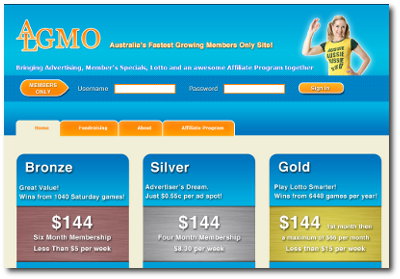 It started life in 2011 just after the closure of TSC2000. And whilst it was initially offered as an alternative for former TSC2000 members, it has no association with that company.
For most of 2011 and much of 2012, Algmo was very much a 'closed doors' affair with no information provided to outsiders. Indeed, their website simply consisted of a log-in box, and a request to email your contact details if interested in joining.
We're pleased to say they do now have a website that at least explains the syndicate options they provide.
So What Do They Offer
AusLottoGroup plays the Australian lottery with a choice of playing just TattsLotto, or you can also add OzLotto and Powerball.
It's aimed at people in Australia and New Zealand, but isn't specifically limited to those countries as players from elsewhere 'may' be accepted too.
How Does It Work
The membership types are broken into Gold, Silver and Bronze.
Gold and Bronze play the lottery. Silver is a curiosity that only allows you to advertise to the other members, something we'll come back to in a moment.
Bronze members play 40 combinations in the Saturday TattsLotto, with a group size of 15 people. A 'Pick 5' entry is used, which guarantees at least 1 number will be right. This costs $144 up-front to play for 6 months.
The Gold level also adds the Tuesday Oz Lotto (using a 'Pick 6' to play 39 combinations), and the Thursday Powerball (using a 'Standard Power Hit' to play 45 combinations). Group sizes are also 15 players per group. With a cost of $144 for Month 1, then a maximum of $66 per month thereafter - as this is dependent on how many draws fall in a particular month.
Members are provided with proof of the tickets bought.
Reasonable Charges?
These are fairly standard costs for a professional syndicate. Although we should point out that whilst AusLottoGroup is run as a business, it is very much a 1-man home based business. So at this stage the business doesn't provide the facilities that the charges may suggest.
With tiered membership, generally the higher priced options tend to offer better value for money overall. This is because there is more money left for ticket purchases once admin costs etc are covered.
And indeed, here Gold membership does offer better ongoing value for money, although the additional $78 cost to start off with is a bit of sting in the tail. This appears to be there just to ensure players are serious about staying for a reasonable period of time.
Payment of Winnings
If a group manages a Division 1 or 2 win then the members are advised and payments are made directly.
The smaller wins go towards reducing the monthly costs for Gold members. Whilst Bronze members are paid out at the end of their 6 month period, when they can take the money or renew for another 6 months.
Golder members are also provided with a monthly SMS text message to advise of their account balance.
Joining Involves Some Work...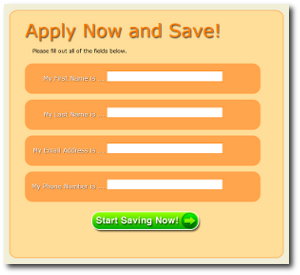 This is where things take a turn for the quirky.
You can't join AusLottoGroup online. Because you have to be interviewed by Grenville first.
To join, you provide your name, email and phone number via a web based form. You'll then be called back, normally within 24 hours, for a 'pre-membership interview'..!
This involves making sure you understand what is being offered, covers going over the application form and Grenville deciding if you're right for the group or not.
You then have to sign the pre-completed application you're sent, and return it with proof of age.
If you make it through that process, payments are then collected using Ezidebit. So you can use your bank account or Visa/Mastercards.
What About That Silver Membership..?
As we mentioned above, the Silver membership is purely about advertising to fellow members in a business directory. This facility is also provided to Gold members. The intention is for members to receive discounts on products and services local to them.
But whilst this business directory could offer some value with a large membership, it does seem all but irrelevant at the moment. It may simply be there more to help comply with Australian legislation, and avoid being seen purely as a Lotto business.
Reporting & Member Updates
There is an online Members back office area, although it is rather sparse and basic. You can view the business directory ads, create your own (if Gold or Silver), and view the weekly reports. That's pretty much it. There's no access for example to update your personal or payment details.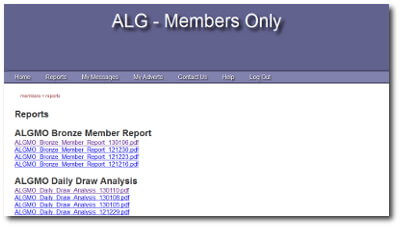 The weekly reporting however is good. Grenville produces a whole range of attractively put together reports, showing things like graphs of average winnings and various analyses of the draws. These are probably more for the enthusiast players as many won't really understand what all the reports actually mean, but it's a nice extra.
One minor concern with the reporting is that there are more syndicate groups than there are players. Many of the groups reported don't actually have anyone playing in them. This isn't really a problem for anyone playing, or intending to join. But it could mislead players into thinking AusLottoGroup has a lot more members, and is therefore more popular than the reality.
We'd like to see an indicator on those reports to show which groups are full, or at the very least a disclaimer to state that a group being listed does not mean the group is active and buying tickets.
So What Do We Think?
AusLottoGroup provides a reasonable choice for playing the Australian lottery.
The group sizes and tickets bought are nicely balanced, although the costs could be a bit lower. The advertising and members specials don't really offer anything of use, but may do one day if they were to grow large enough.
Although that's very unlikely at present as growth is going to be greatly restricted by that bizarre joining process.
Click here for AusLottoGroup Members Site
Similar Lottery Syndicates:-
WinTrillions OzLotto - not much game choice from this Aussie syndicate, but it's a lot more straightforward.