WinTrillions Oz Lotto Syndicate Review
Here WinTrillions have opted for a simple straightforward Australian syndicate playing the Oz Lotto.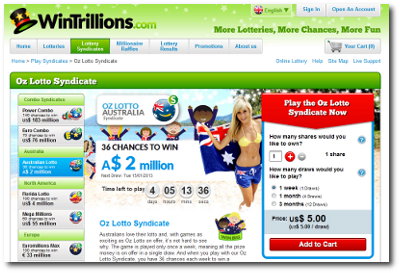 You can also play the Australian Powerball on a Thursday with them, but not in a group yet.
So What Do You Get?
This is about as straightforward as it gets.
Each group buys a total of 36 Oz Lotto tickets, with 100 shares in each group. The cost is US$5 per share.
The group size may be the first problem here. The starting jackpot for Oz Lotto is AUS$2 Million. And whilst it does roll over quite often, when it is at $2M that only leaves $20,000 each when shared between 100.
Now that may be large enough for a lot of people, but you need to consider that carefully. You could of course win on a rollover week where the jackpot is AUS$90 Million and it won't be an issue at all, but there's no guarantee of that.
You could also buy more than 1 share to increase your winnings - in fact you can buy as many as you like in the same group.
But this brings us to the second, and far more serious problem.
The Big Problem
This is one VERY expensive syndicate.
In fact, it was so expensive, we had to double check with WinTrillions to see if there was a mistake on the site. Maybe it should say 25 or 50 shares per group?
Sadly, that wasn't the case.
So we certainly can't recommend this option for regular weekly play. But if there is a particular 'one-off' Oz Lotto draw you want to play - e.g. a large rollover, or other special draw, then this may be a good option for a quick and easy way to boost your chances.
Playing Online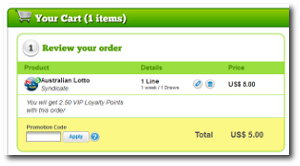 And it is very easy to play. WinTrillions do make buying tickets or syndicate entries very easy indeed.
Even more so if you already have an online account set up with them, in which case it becomes as simple as a few button pushes and you're done!
You also get to see scanned copies of the tickets you're playing, and can of course do all the usual updating and amending your account details online.
What About The Admin Support
They don't actually publish a phone for support, but they are quick to reply to emails.
Plus there is a live online chat support system too. Which is great for those quick questions.
So What Do We Think?
WinTrillions are like most ticket buying services when it comes to just buying tickets - pretty expensive.
But their initial syndicate options had started to show more promise, with much better value for money.
This one however sadly fails greatly on that count. Because it's very expensive for the actual number of tickets you get.
The only situation we'd suggest using this one is if you want to play a specific special Oz Lotto draw, e.g. a big rollover. This is definitely not for regular play.
Similar Lottery Syndicates:-
AusLottoGroup Syndicate - offers a lot more games than WinTrillions, and better value for money long term - but it's far harder to actually join it.