eLottery Car Competition Winner
February 2010: The lucky winner of the eLottery car competition is David Jenkins from the UK. David gets to drive away a brand new BMW Mini.
Here he is being presented the keys to his new car by eLottery co-founder Tom Brodie:-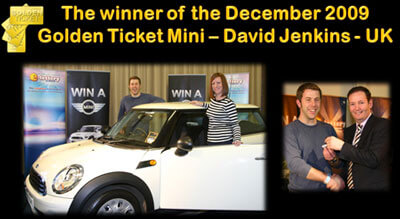 David won the big prize in the Golden Ticket prize draw just by playing in the eLottery syndicates. Each week he played he got a free golden ticket. Many other players won smaller prizes from flat screen TV's to iPods and Satnavs.
Winning the big prize did come as a bit of shock though. "I am totally blown away to win this fabulous prize. It could not have come at a better time for me" said David. "You always imagine winning and what you would do - and now it's for real, I don't have to imagine any more. I have been an e-lottery member for several years and my syndicates have regular wins, but winning a car is like the cherry on the cake."
Announcing The 2010 Golden Ticket Car Competition
Yes, it's back again for another year. The eLottery folks were so pleased with the car competition they are running another one. Once again there will be lots of cool monthly prizes to be won, plus all ticket holders will go into the end of year draw to win another car. You get one ticket each time you play in a weekly UK Lottery syndicate or EuroMillions syndicate, and 4 tickets when you enter the monthly Spanish lottery syndicate.
So even if you don't win the lottery, you could still walk away with a great prize in the monthly prize draw. And still have a chance at the car competition at the end of the year too.
More about eLottery:-
eLottery Car Competition Winner Announced, Feb 2010
Win A Mini With e-Lottery Golden Tickets
e-Lottery Winners Share £88,748 UK Lotto Win
e-Lottery Near Miss: Just One Digit From The Jackpot!
e-Lottery Celebrates 5th Birthday
VWD News Bulletin (VIDEO): eLottery Syndicate Celebrate Big Win
VWD News Bulletin: Big eLottery Win Dec 2006
VWD News Bulletin: VWD Growth Triggers Office Move
In The Press: e-Lottery UK National Lottery Winners
< Back to e-Lottery Syndicate Review