How To Play EuroMillions?
It's the big popular jackpot game played across multiple European countries. Here's how to play EuroMillions:-
1. On your playslip simply pick 5 numbers from 1 to 50.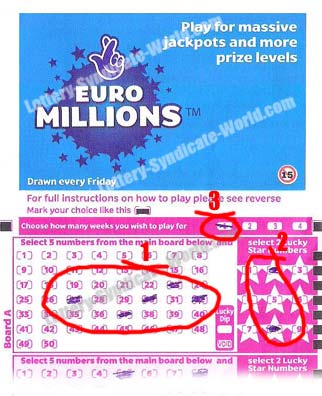 2. Then pick 2 Lucky Stars from 1 to 9.
UPDATE: There are now 12 Lucky Stars to choose from, since the changes made to EuroMillions in both April 2011 and September 2016.
3. Finally decide how many weeks to play. You can buy a ticket that covers 1, 2, 3 or 4 draws by marking the appropriate 'how many weeks you want to play' box.
If you don't wish to pick your own numbers just mark the Lucky Dip box instead and the computer will randomly pick numbers for you.
The EuroMillions Draw
The actual draw is made every Tuesday and Friday night in Paris. The 5 main numbers are drawn from one machine, then 2 Lucky Stars are drawn from another machine.
To win at least something you have to match a minimum of 2 main numbers, or 1 main number and both Lucky Stars.
For the jackpot you have to match all 5 of your main numbers, and both of the Lucky Star numbers too.
You can get full details about all the prizes and the chances of winning them in EuroMillions prizes.
The UK EuroMillions
If you buy your ticket in the UK, you also get entered into the EuroMillions Millionaire Raffle, which guarantees one lucky ticket holder a £1 million prize. You get one raffle entry for each board you play.
Want To Play Online?
If you want to play online one of the best ways to play is with a syndicate - you won't get charged 5 times the normal ticket prices, plus you get a better chance of winning. You can find all the best EuroMillions Syndicates here.
Or if you really insist on buying tickets directly here's our guide on how to buy EuroMillions tickets online.
More Lottery Questions Answered:-
What Is A Lottery Syndicate?
What Countries Play EuroMillions?
How Do You Avoid Combinations That Will Never Win The Lottery?
Should I Switch To Canada Lotto Max Or Stick To Lotto 649?