How To Buy EuroMillions Lottery Tickets Online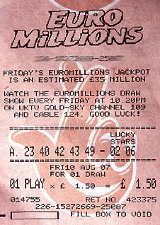 The next draw is coming up fast, and you want to buy your EuroMillions tickets right now, online.
OK, but Be Prepared...
You may be able to get tickets online at your official lottery companies website. But even these days this isn't very common.
But do try that route first, because if you can then it will be one of the cheapest options available!
Don't Live In The Right Country? Or Official Website No Good?
If you don't live in one of the official EuroMillions countries. Or if you do but your lottery companies website is a bit old fashioned and doesn't yet allow you to buy online - and you still want tickets NOW then we can help.
But you are going to have to pay a bit more than the normal ticket price. This is unavoidable. Because we're going to use a ticket agent to buy them for us.
Where To Buy Tickets Online
Right, so you want to buy your tickets online. And you're prepared to pay a bit more than the normal price. That means using one of the online ticket selling services (also sometimes called messenger or courier services).
There are lots of options to choose from now. Prices vary a lot - but competition has made prices more reasonable.
WARNING: having seen how popular this is, a lot of new sites have sprung up in the last couple of years. Some are fine, but some are definitely not to be trusted. But if you stick to the well established companies listed below you should be just fine.
So we've researched the online options available, and these are currently the best for EuroMillions:-
(Note for those in the US: Of these only Lotto Kings is open to players living in the USA.)
What About The UK Millionaire Raffle
In the UK there is an 'add-on' game called Millionaire Raffle. This pays out an extra £1 Million prize guaranteed every draw.
To be included in this game tickets have to be bought in the UK (rather than one of the other European countries that are part of the game). If you specifically want UK EuroMillions tickets you can get them here.
One Other Alternative
The cheapest way to buy EuroMillions tickets will always be to use an official lottery outlet in your own town.
But there is one other possible alternative if you're not dead set specifically on buying tickets. If you play in a good syndicate you can often get a better deal than many of the online ticket sellers, and a better overall chance of winning too. You can find our EuroMillions syndicate reviews here.
So do consider all your options carefully before buying.
Do You Know Anywhere Better?
If you already get your tickets online, do you use any other company? Would you recommend them? If so please do contact us and we'll let our readers know. Thanks.
More Lottery Questions Answered:-
What Countries Play EuroMillions?
How To Play Euro Millions?
Chances Of Winning The EuroMillions?
How Does EuroMillions Millionaire Maker Work?
How To Play EuroMillions HotPicks?