How To Buy EuroMillions Lottery Tickets Online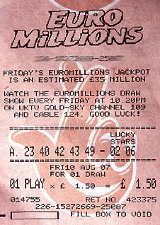 The next draw is coming up fast, and you want to buy your EuroMillions tickets right now, online.
OK, but Be Prepared...
You may be able to get tickets online at your official lottery companies website. But even these days this isn't very common.
But do try this route, because if you can because then it will be one of the cheapest options available!
Official Website No Good?
If your official lottery companies site is a bit old fashioned and doesn't yet allow you to buy online - and you still want tickets NOW, then you are going to have to pay more than the normal ticket price. This is unavoidable.
One Possible Alternative...
NOTE: The cheapest way to buy EuroMillions tickets will always be to use an official lottery outlet in your own town.
But there is one possible alternative before resorting to other online ticket options. If you play in a good syndicate you will get a better deal than the online ticket sellers, and a better chance of winning too.
[You can find our EuroMillions syndicate reviews here]
So do consider these options first, before going for this final online option.
Buying Tickets Online
Right, so you want to buy EuroMillions tickets online, and you're prepared to pay more than normal. That means using the online ticket selling services.
There are simply too many options these days, with some very varied, and in places crazy prices! (The somewhat dodgy ticket sellers tend to rely on people not knowing the real ticket price, and what the currency conversion rates are!)
So we've researched the online options available, and these are currently the best for EuroMillions:-
Note 1: 'The Lotter' are currently running a 'Buy One Get One Free' offer, making tickets currently just $3.55.
Do You Know Anywhere Better?
If you already get your lottery tickets online, do you use any other company? Would you recommend them? If so please do contact us and we'll let our readers know. Thanks.