Lotto Plus 5 Added To Syndicates
Love My Lotto have just announced they have now added the UK's Lotto Plus 5 game to their syndicate groups.
You can still choose between Bronze, Silver or Gold membership, with each giving progressively more entries in all of the games they cover (UK Lotto, EuroMillions, Millionaires Raffle, £1M Daily Draw and now Plus 5). These are the revised syndicate entries by membership level:-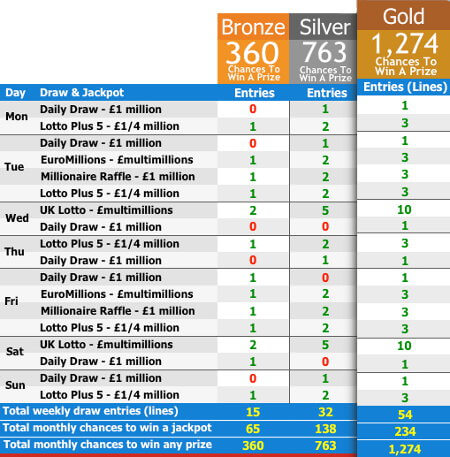 You can find our full review of Love My Lotto here.
Note that the Lotto Plus 5 entries are actually replacing the Premium Bond entries that used to be offered, which were a useful option but must have been a nightmare in terms of administration.
Those outside the UK may not be aware of Premium Bonds. They are a Government backed monthly draw which has been running since 1956. The top prize is £1 million, but over a million other prizes are also paid out every month tax-free. You can read more about those here.
About Lotto Plus 5
Plus 5 is an extra game added by the UK National Lottery in November 2011. It's drawn on the days inbetween the main UK Lotto draws. So in other words, it's drawn on Monday, Tuesday, Thursday, Friday and Sunday.
The game is an add-on to the Lotto draw, hence the 'Plus 5' - so you enter by buying your UK Lotto ticket as usual but ticking the box to also play Plus 5. Your Lotto numbers are then included in all 5 of the Lotto Plus 5 draws for just £1 extra per combination.
Lotto Plus 5 Prizes
The prizes for Plus 5 range from £2.50 for matching 3 numbers up to £250,000 for matching all 6. The odds are of course the same as for the main UK Lotto game, as the draw is the same.
One important difference though is that these prizes are fixed amounts - if multiple tickets win, each one gets that prize, there is no sharing the jackpot.
More Information:-
LML Interview 'Jackpot John' - watch syndicate millionaire John talk about the day he found out that he won.
Love My Lotto Magazine Advert - This was spotted in What's On TV magazine on 8th Jan 2011.
Love My Lotto TV Advert - if you haven't seen it on TV you can catch their ad here
Love My Lotto Balloon Launch - what new company launch would be complete without balloons.