'Play Euro Lotto' Review
Play Euro Lotto specialise in online sales of tickets and syndicates for the EuroMillions and Eurojackpot lottery games. Although they have more recently added options for the big games from the USA too.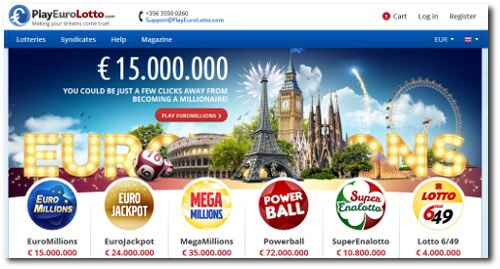 Unusually the online tickets are priced very reasonably, and put many rival ticket services to shame. But it's the syndicate groups that we are most interested in here.
The Syndicate Options
You can buy syndicate positions with Play Euro Lotto from all over the world (only the USA cannot play due to US rules).
The syndicate options are broadly split into 3 groups - Euro, USA and World. But here's how those options break down:-
| Group Name | Game 1 | Game 2 | Lines Played | Group Size | Cost pw1 |
| --- | --- | --- | --- | --- | --- |
| "Euro Combi" | EuroMillions | Euro Jackpot | 155 | 88 | €9.14 |
| "US Combi" | Powerball | Mega Millions | 100 | 93 | €7.38 |
Notes
1) These are the MAXIMUM subscription costs - if you subscribe for longer periods you can save up to 26%.
For the Euro Combi groups you'll be playing 55 lines in both Tuesday and Friday draws with EuroMillions, plus 45 lines on Friday's Euro Jackpot. Making your Friday night the most exciting night of the week of course.
With a US Combi group you get 15 lines in each draw with Mega Millions plus 35 lines in each draw for Powerball.
In addition to these, there is also the VIP World option. This actually gives you both the Euro games, plus both US games, plus entry into Italy's Super Enalotto (85 lines per draw) and Germany's 6 from 49 game (10 lines per draw). Making every night of the week pretty darn exciting :-)
Value For Money
All three groups offer decent value for money with the best value coming from the Euro Combi group, which also has a decent balance of entries to players per group. A big jackpot will create a very nice lump sum for each player in the group.
The company used to provide a greater range of syndicate choices, but these revised groups whilst not as flexible are well designed and are much better value for money.
The Mechanics - Lucky Stars Guaranteed
Each group runs on a monthly subscription basis. Although you can also subscribe for longer periods and save up to 26% on your subscription cost.
You cannot select the exact numbers you want to play but you can choose your preferred numbers from a list of preset combinations. This is done for two reasons. Partly to minimise 'gaps' in the groups that the company then have to fund, but mainly because they have designed the groups to guarantee you always match the Lucky Stars (or other supplementary numbers) in every draw.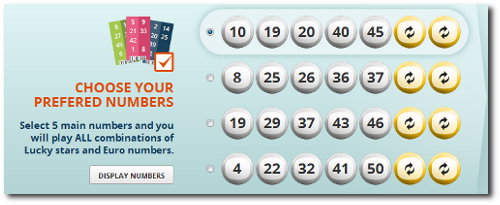 The is the clever bit, and is the reason behind the number of entries for each draw. Because there are 55 different combinations of Lucky Star numbers for EuroMillions - everything from '1 and 2' through to '10 and 11' - the company play the same 5 main numbers plus every possible Lucky Star variation for the syndicate group.
That means every group is always guaranteed to get at least 2 Lucky Stars in every single draw. The main numbers do of course vary between groups.
This applies to the EuroJackpot too, where you are guaranteed both of the Euronumbers. As well as to all the other games where you are always guaranteed to match all the supplementary numbers!
The downside is that you can't just pick and change your numbers - which doesn't make any real difference of course. But it's easy to get confused about whether things like keeping the same numbers makes any difference to your chances (it doesn't! More on this kind of thing in lottery things that really work). And of course the upside of always matching the supplementary numbers should more than make up for that!
How To Join
Joining online is very quick and easy. It's just a simple shopping cart process - add your tickets/syndicates to the cart, fill in minimal personal details, complete your payment and you're done.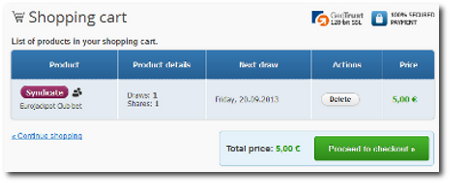 Your payment options are all the usual range of credit and debit cards. Plus you can also use Skrill (Moneybookers) if you prefer, or the Sofort Payment Network, or Neteller.
Some options will depend on which country you live in.
How Do I Get My Winnings?
Winnings are notified by email after every draw and credited to your account. You can also log-in to your account and check them there too (under History).
You can then withdraw your winnings whenever you like. The options are to withdraw direct to your bank account or to your credit card if you prefer. There is no limit to the withdrawal amount (which used to be a minimum of €25). For major prizes, jackpot or 2nd tier, you will be asked to complete a form and payment will take around 2 weeks - which is excellent turnaround.
But you can also use your credit balance to buy tickets or play in more groups too.
The Bottom Line?
There are some good syndicate choices here. The numbers have been balanced well, and the value for money is now pretty good. And being guaranteed to match the Lucky Stars (or other supplementary numbers) every draw is the icing on the cake.
The joining process is simple, as is the admin side and everything just works as it should. The company are licensed and have been providing ticket sales online since 2011 now. They respond promptly to emails and have been friendly and efficient.
Back to the Eurojackpot Syndicates
Similar Lottery Syndicates:-
You Play We Play Review - novel 'pay as you go' play options from this very straightforward syndicate.
Love My Lotto Review - a 'put your eggs in lots of different baskets' approach to playing in a group
by
Mark
2013-09-18 Updated:
2015-08-17