'You Play We Play' Review
'You Play We Play' are a small professional syndicate operation based in Birmingham in the UK.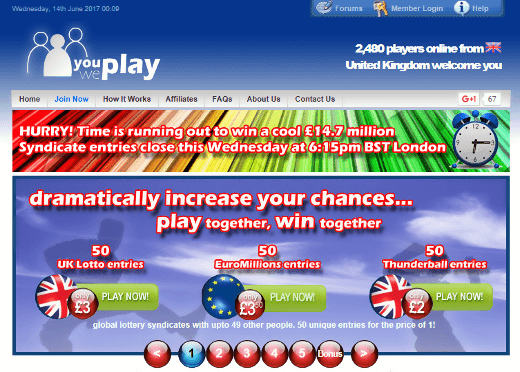 They provide syndicates for the UK Lotto, EuroMillions and interestingly, Thunderball and The UK Health Lottery too.
And perhaps their most distinctive feature is offering 'pay as you go' play in each of these games. That is, there is no ongoing commitment. You choose the draw you want to play, and buy a syndicate place just for that draw.
There are subscription options too, but more on that later.
What Syndicate Groups Are Available?
There are separate groups for each game - so you can choose which games to play. And new groups are formed for each draw - so if you prefer to just play EuroMillions on Friday and not Tuesday, that's fine.
For those not sure, the games run as follows:-
| Lottery Game | Days Played |
| --- | --- |
| UK Lotto | Wednesday and Saturday |
| EuroMillions | Tuesday and Friday |
| Thunderball | Wednesday, Friday and Saturday |
| Health Lottery | Wednesday and Saturday |
Each group is made up of a maximum of 50 tickets. Regardless of which game you choose. That could be 50 people if each person buys one ticket, but you can buy buy more than one share in a group if you wish.
Now 50 is a good number, but here is where You Play We Play suffers from the 'smaller syndicate operator syndrome'.
Because it can be quite expensive to guarantee all syndicate groups are full, some syndicates do not guarantee to fill groups. The syndicate operator would have to fund those empty slots out of it's own pocket, which is what the bigger syndicate managers do.
What this means is you could find yourself in a group with less than the full 50 players when the draw takes place.
UPDATE: Here's a good tip - always buy your entries early. These guys are much busier now and if you buy early it's pretty rare not to end up playing in a full group.
The downside of playing when a group isn't full of course is that obviously you don't get the full benefit of the syndicate. You may end up playing with only 40 tickets instead of the maximum 50. Or potentially even less.
The winnings would of course be split between fewer people, but this is a point of frustration and You Play We Play does lose points on this.
How Much To Play?
The cost to play is a straightforward £2 for the Thunderball and Health Lottery syndicate groups, and £3 for the UK Lotto and EuroMillions groups. Which is very good value for a professionally managed syndicate service. Payment is accepted by most types of credit card.

You can also choose the You Play We Play 'VIP Subscription' options.
These start at the 'Bronze' level of £4 per week giving entry to every Friday Thunderball and Saturday UK Lotto.
And go right up to 'Diamond' level at £14 per week which gives play in pretty much every draw there is. There are some additional VIP benefits planned too (promotions and discounts etc) but these are currently still under development.
UPDATE: If you choose the VIP subscription option you currently receive your first week free.
What About Winnings?
Winnings are detailed very clearly and quickly after each draw. The funds are then stored in your online account until one of the automatic payment dates (quarterly). There is no charge for this. Or you can choose to withdraw at any other time subject to a small fee of £2-50.
You can have payments made by bank transfer, cheque or Skrill (formerly 'Moneybookers').
Picking Numbers
Whilst not a concern for many players, some players do prefer to choose their own numbers even when playing in a group.
So You Play We Play scores here as you can pick your own numbers each time you enter. There is also a Lucky Dip button if you prefer the Quick Pick approach.
How Do You Join?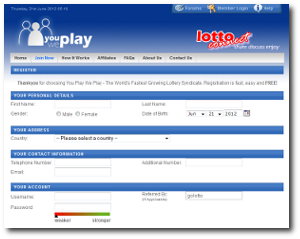 Another nice point about this syndicate is that it's actually free to join online. So you can join and have a good look around the site without any further commitment. You only pay anything if you choose to play in a draw.
From the outside the site can be quite confusing. There are distracting links and lottery results to contend with, plus lots of clicking to dig through the site information.
Once you join and log in things are a little clearer. Just look for the green 'Play Now' buttons or head for the 'Member Center' to check your entries and winnings.
There's A Guarantee..?
You don't normally get any guarantees when playing the lottery of course, but YPWP have decided to add one. They do guarantee to refund 100% of the entry fees if your syndicate group doesn't get at least 1 prize in 12 weeks. That does of course include small wins too, so it's not a big deal, but some may find it reassuring.
So What Do We Think?
This is a good professional lottery syndicate, that's also very good value for money.
It does lose points because they don't guarantee to fill syndicate groups, but so long as you buy your tickets early you can be fairly sure your group will fill up each time.
The subscription options are good, and provide plenty of choice.
But we also particularly like the 'pay as you go' play option. This allows you to boost up your entries for those special draws with big jackpots or extra prizes, or just once in a while on top of your regular entries. And you can of course subscribe and play extra syndicates as and when you like too.
And it is free to join and have a good look around which is great, so it's worth joining even if only to take a closer look inside before you decide to play.
Latest YPWP News:-
1 Oct 2013 YPWP gets an app. Now you can play in the syndicates from your Apple or Android device. As well as receive fast lottery results right after the draw, and manage your account too.
7 Jul 2013 YPWP celebrate over 100,000 individual wins so far in 2013.
25 Jun 2013 To celebrate launching their new UK Health Lottery Syndicates, YPWP are giving away 100 tickets to one lucky member.
25 Mar 2013 Well the Super Draw rolled over. So YPWP are doing it again - but now you could win 111 tickets for the €111M rollover jackpot. It's free to enter here.
20 Mar 2013 It's a Super Draw, and YPWP are offering you the chance to win 100 tickets for the guaranteed €100M jackpot.
8 Mar 2013 The management team get to meet the Prime Minister, well almost.
Similar Lottery Syndicates:-
Love My Lotto Review - play lots of lottery games instead of just one with these off the peg syndicate packages.
Big Fat Lotteries Review - 10 years of experience behind this professional online syndicate, and plenty of games to choose from.
Tips 4 Winning Review - with a focus on the EuroMillions this is a nice semi-professional group.
Lotto 28 Review - a good amateur group with a distinct preference for playing the UK Lotto.
by
Mark
2012-01-06 Updated:
2013-10-07