YPWP Get To Meet The PM... Nearly!
The management team from 'You Play We Play', Mike Oxford and Anthony Jarvis, have been invited to the Spring Conference 2013.
A handpicked selection of business leaders have been invited to the invitation-only event being held at the Hilton Brighton Metropole (Brighton, UK).
The Liberal Democrat conference itself runs from 8-10 March 2013, but the Business Day for 'leading technology and digital companies' which YPWP will be attending will be held on Friday 8th. Deputy Prime Minister Nick Clegg and the Secretary of State for Business Vince Cable MP will be joining them.
So not quite a Prime Minister, but almost, particularly when you add in a Secretary Of State too.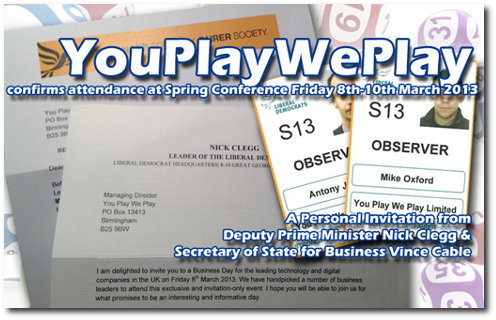 Wonder if Nick Clegg plays the lottery... hopefully the boys will be able to find out.