Nice 5 Ball Win For Florida Lotto Club
One Team Captain was particularly happy with the Florida Lotto draw for 9 February 2013.
His group scored a 5 ball match for the draw, netting them a rather nice $6714.00 win.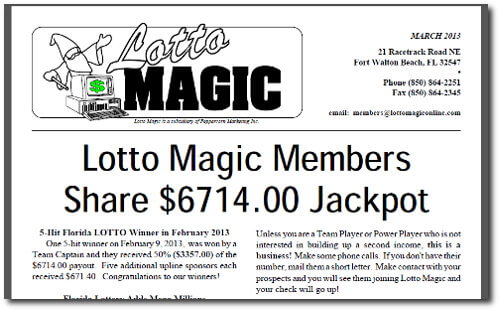 > Back to Lotto Magic Review Here
The winning numbers drawn were 12, 22, 36, 42, 44, 52.
(which incidentally is a nice combination just to demonstrate to the 'odd/even theorists' that it doesn't actually make any difference if you pick all odd numbers, all even numbers, or any combination of the two!)
The Lotto Club has been running since the beginning on 1996, and has no intentions of stopping anytime soon. And now that the Florida Lottery have added Mega Millions, they plan to tackle that game too.
More Lotto Magic News:-
23 Apr 2013 Lotto Magic Florida Adds New Games - with Mega Millions arriving in Florida, the Lotto Magic team have decided to add options to play both Mega Millions and Mega Money.
14 Mar 2013 Nice 5-hit winner for one group on the Fl Lotto, winning a prize of $6714.00.