Florida Lotto Magic Review (WealthPerx)
Lotto Magic (now 'WealthPerx') is different from any other syndicate we have come across. They play mainly the Florida Lotto and Powerball, in an exclusive 18 year old Members Club. But there's more to it than that.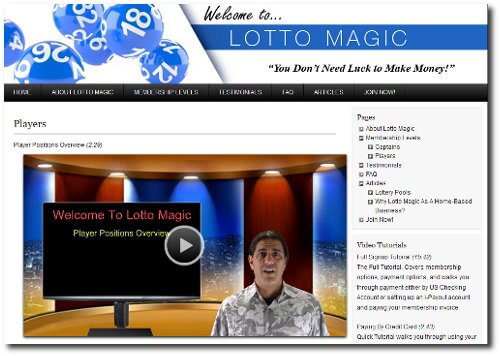 This Lottery Club is also about giving their Members benefits and discounts, ideally worth more than the cost of their membership!
It is open to players all over the world, but players in the USA will get the best from the discounts and benefits side.
UPDATE: Now you can play Mega Millions and Mega Money too.
Playing The Lottery
The lottery side of the club plays the Florida Lotto 6 from 49 game every Wednesday and Saturday. This is the basic 'Team Player' membership level, which costs just $25 per month.
But you can also opt for the 'Power' or 'Mega' player levels too, or easily upgrade to these at a later date. Power Player adds both weekly Powerball draws on top of Lotto for a total of $60 per month. And Mega Player adds all the Mega Millions and Mega Money draws on top of those too, for $120 per month.
Groups are made up of 8 members all funding one ticket each. This is a little smaller than we would like, although it is still eight times the chance of winning of course.
Everything works on a monthly cycle, so depending on how many days in a month you get to play in 8 or 9 lottery draws a month at the basic 'Team' level. And therefore share in the winnings from a total of 64 or 72 Florida Lotto tickets.
Or right up to as many as 36 draws per month as a Mega Player, sharing in 288 tickets.
Update: a once only $20 registration fee has now been introduced to help cover the costs of the initial membership package.
What About Winnings?
Winnings statements and payments are reliably mailed out to you every month.
I should just mention that these guys have actually been quietly running for EIGHTEEN YEARS now (since 1996), and is officially the oldest lottery club that we are aware of.
Benefits And Discounts
Here's the unusual bit, and an important factor that other Lotto Magic reviews fail to mention. As a player you get free membership to a discount shopping club, which saves you money on everything from movies to sports tickets.
The true value of this depends on how much you actually use it of course, but there is plenty of stuff available. And fortunately it is stuff you will already be buying, so there is a good potential to save money. We did a 'not very scientific' calculation and reckon you could likely save in the region of $500 per year. Apparently some members do save even more than that. Here were some of the savings offered:-
Save up to 41% on AMC Movie Tickets
Save $20-$30+ on Sports or Theatre tickets
Blockbuster rentals at $3.20 (normally up to $5.24!)
Save 10% at Circuit City
$25 off $125+ at Kmart
What Do We Think?
It's a bit harder to judge Lotto Magic than normal. Because you do need to take into account the additional benefits the club offers.
If you won't use the discounts then you still get a decent Florida lottery syndicate, but just pretty average value for money.
BUT, if you live in the USA and will therefore make use of the discount club, then starting at just $25 per month it really does sound like a bargain.
How To Join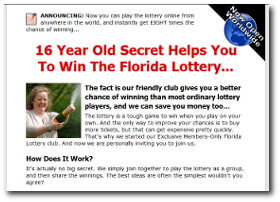 The club is online, so you can join online and be up and running today.
Note: make sure you pick a 'Player Position' option on the application form. This gets you the lottery games, and the discount shopping (the Captain option is for people who want to promote the club to friends, but it costs twice as much).
Latest News:-
1 Jun 2016 A new name - Lotto Magic is now known as 'WealthPerx'.
1 Jul 2014 New Member Registration Fee introduced - a one-time $20 fee to cover admin and the membership package.
13 Sep 2013 More flexible online payment options have been added to make joining a little easier.
23 Apr 2013 Lotto Magic (Florida) Adds New Games - with Mega Millions arriving in Florida, the team have decided to add options to play both Mega Millions and Mega Money.
14 Mar 2013 Nice 5-hit winner for one group on the Fl Lotto, winning a prize of $6714.00.
28 Feb 2013 Now that the Florida Lottery has confirmed they are adding Mega Millions (which starts 17 May 2013), they have announced they too will add an option for this popular big jackpot game.
Similar Syndicates:-
Powerball and Mega Millions Syndicate - for US players who like the big prize games.
LottoLishus - unusual pooling option for the big US games, and open worldwide.
Big Fat Lotteries Review - lots of syndicate choices including the big US games from this well established company.
by
Mark
2009-10-14 Updated:
2014-08-13