Mario's Lottery Groups Review
Mario's Lottery Groups play the Canada Lotto 649 and the Lotto Max.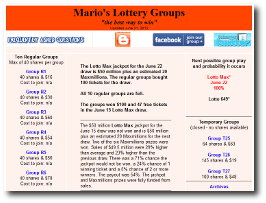 The owner, Mario, used to work for Ontario Lottery and Gaming... so maybe he has a little insight into which are the best picks ;-)
Quick Note on Canada Lotto Odds
The Lotto 649 is of course a 6 balls from 49 type game, which gives jackpot odds of approx 1-in-13 million.
Lotto Max is a newer lottery game, which is a 7 balls from 49 draw. The minimum purchase is 3 combinations though so this gives 1-in-28 million odds for a basic ticket (or 1-in-86 million for each individual entry - more about Lotto Max here)
There are now 10 regular groups, Group R1 to R10, playing the Canada Lotto 649. These cost CAN$10 per month, which is a very low requirement to play. All of the groups are limited to 40 shares - so that could mean 40 people with 1 share each, but players can also fund more than 1 share if they wish.

The Permanent Groups
The novel feature is that the groups only play when the jackpot is $20 million or more for the 649, or $40 million for Lotto Max.
This is sensible strategy, as it gives a better cost/chances/reward ratio. Each groups pool of funds to buy tickets builds up until a decent jackpot comes along, and then as many tickets as possible are bought.
So depending on rollovers this could build to hundreds of tickets.
The Temporary Groups
There are also occasions where Temporary lottery groups are formed for Bonus draws or Special draws. These could be for other games with particularly good jackpots for example, and normally have a minimum entry of just $1.
Winnings are then shared proportionately to how much you put in - you can be added to the mailing list to hear when these start, Permanent Group members will hear anyway.
No Charges!
This syndicate is run as a one-man 'not for profit', which sometimes means life span of the syndicate can be quite short - but as Mario has been going since 1990 he isn't likely to get bored too soon.
As a not for profit, there are of course no charges, at all. All money paid goes to buying tickets. Mario plays in the groups himself, so his reward will come when the groups hit a nice big jackpot.
How To Join
The Groups are open to players all over the world, and payments can be made by Visa/Mastercard (using 'Events Online'), Interac or Cheque. There is no minimum playing term so players can join and leave as they wish.
You can join online if a group has places available. Or by sending an email from the site stating which group you want to play in, further instructions are then sent to you.
Very small wins are added to the pot to buy extra tickets. Modest wins members can choose to take the money or add it to their account to fund their future membership.
Picking Numbers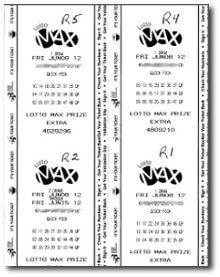 Number selection is done by the syndicate, but thankfully NOT according to any silly science! Here Mario uses analysis of past results BUT only to try and avoid selecting popular combinations. The idea being that when a jackpot comes, it won't be shared with dozens of other winners.
The tickets purchased are emailed to members before every draw, and members are also emailed after each draw with the results. The draw results are also publically visible on the site shortly after each draw.
Conclusion
The website itself can be a little confusing and does look quite basic. Don't be too put off by this, as it's the syndicate that really counts. Yes, it would be nice if it looked really flashy, and there was a Members area where you can view and amend details etc.
But the fact is, this is simply a really nice syndicate with a solid history. If you want to play the Canada Lotto 649 or Lotto Max, this is the place to do it.
Back To The Canada Lotto Syndicate listings.
Similar Lottery Syndicates:-
Powerball and Mega Millions Syndicate - for US players who prefer the big prize games.
Florida Lotto Magic Review - play Florida Lotto with an option for Powerball too.
Irish Lotto Syndicate - nice option for those wanting to play the Irish lottery online.
by
Mark
2009-07-06 Updated:
2012-06-22