WinTrillions Power Combo
Syndicate Review
The 'Power Combo' syndicate from WinTrillions plays Powerball, Mega Millions and Italy's SuperEnalotto.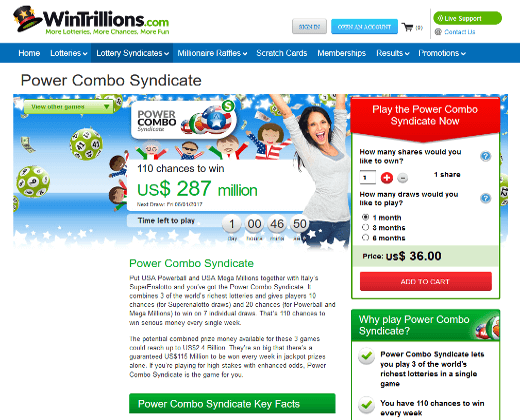 In other words - they are gunning for the biggest jackpot games in the world.
WinTrillions are reasonably well known online for selling lottery tickets. They started in 2005.
We have previously criticised sites such as this for their high prices though (typically at least 4 times the normal ticket price!).
But now they have started to provide lottery syndicates.
So Are They Good Value?
Buying tickets generally with services like WinTrillions is still expensive. But if you are determined to play a particular lottery from another country, this may be your only option. It is still worth comparing other games available locally first though, before being dazzled by 'big overseas jackpots'.
However, adding a syndicate service does improve value significantly. As now you get the benefit of being in a pool, and having that lottery pool managed for you.
The hassle factor of doing this yourself should not be underestimated!
The Games
Most players will be very familiar with the US Powerball and Mega Millions games. The jackpots grow rapidly, and get very big. But the odds are very tough, making syndicates an attractive way to play these games.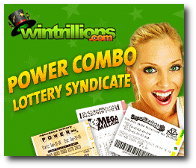 But whilst Powerball and Mega Millions are hugely popular in the USA, there are hardly any online lottery syndicates available for them. In the USA or elsewhere. Thankfully WinTrillions accept players from all over the world including the USA.
SuperEnalotto is less known outside of Italy. But despite being the hardest lottery game in the world to win, it's a game the Italians love. Mainly because the jackpots roll over to vast amounts (regularly well over €100 Million), and have no cap or limits so can reach outrageous amounts.
How Much Does It Cost?
The price is $9 per week, and you can choose to play for as little as 1 week (or even go for as much as 6 months).
For that you get to play:-
20 tickets twice a week for Powerball
20 tickets twice a week for Mega Millions
20 tickets three times a week for SuperEnalotto
A total of 140 tickets
The groups are made up of 70 players, so all winnings are shared equally between those 70 people.
How To Play
You can play the 'Power Combo' online, and manage everything from your online account.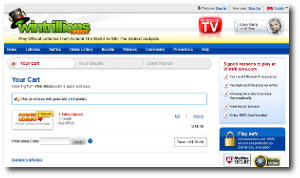 WinTrillions accept lots of payment options - all the standard credit cards, plus bank transfer, Western Union, Moneybookers and more.
So What Do We Think?
The 3 games in the 'Power Combo' syndicate have the toughest odds of all lottery games. But if you are determined to play these particular games, then playing in a syndicate to significantly reduce those odds is the only sensible option.
Now they could certainly be cheaper. But they are currently the only professional company offering syndicate play for Powerball and Mega Millions. And they do have a solid online history of selling lottery tickets online.
WinTrillions News:-
19 Jul 2014 Brent Locke from Australia collects a payment of $25,000.
1 Feb 2014 EuroMillions Max group win $20,246.
9 Dec 2013 Enrique Ramez wins a very nice $250,000 - he only played for 6 months.
30 Jul 2012 A UK Power Combo group picks up total wins of £51,387.
2 July 2011 Katie Hitchcox in the UK wins $250,000 with a Mega Millions ticket (see story here).
More About Mega Millions & Powerball:-
Biggest Mega Millions Jackpot Ever - these jackpots can get big, seriously big.
Similar Lottery Syndicates:-
Big Fat Lottos - syndicate options as well as a regular ticket purchases from this established company.
Lotto Magic Review - play the Florida Lotto with an option for Powerball too.
LottoLishus - unusual syndicate option for playing in the big US games.