What Is The UK Health Lottery?
Launched in September 2011, the UK Health Lottery aims to give more money to local health causes. It's a very different game to the UK Lotto and EuroMillions.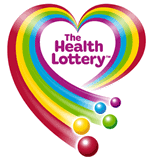 The Health Lottery is a twice weekly 5 balls from 50 game, with fixed jackpot prizes of £100,000 for the Saturday draw (less on Wednesday). Tickets cost £1 and the draw is made every Saturday and Wednesday evening.
Whilst a significantly smaller jackpot than the main UK lottery games, it's been designed to create winners instead of big rollovers.
Health Lottery Odds
As a 5 from 50 game, the odds are significantly better than most lotteries. Which is of course reflected in the much smaller prizes.
Here are the odds for the prize tiers:-
| Balls Matched: | Odds: |
| --- | --- |
| Match 5 Numbers (Jackpot) | 1 in 2,118,760 |
| Match 4 Numbers + Bonus | 1 in 423,752 |
| Match 4 Numbers | 1 in 9,631 |
| Match 3 Numbers + Bonus | 1 in 4,815 |
| Match 3 Numbers | 1 in 224 |
| Match 2 Numbers + Bonus | 1 in 224 |
So you are actually 6.5 times more likely to win the jackpot with this game than the UK Lotto. But read about the prizes before you decide if that's a good thing or not.
Health Lottery Prizes
There are now 6 prize tiers, since the introduction of the Bonus Ball in May 2013 before which there used to be just 3. Each tier is a guaranteed fixed prize. There are no rollovers, and no sharing of jackpots. So every player that matches 5 numbers will receive the full jackpot amount.
| Balls Matched: | Prize: |
| --- | --- |
| Match 5 Numbers (Jackpot) | £100,000 |
| Match 4 Numbers + Bonus | £10,000 |
| Match 4 Numbers | £250 |
| Match 3 Numbers + Bonus | £50 |
| Match 3 Numbers | £20 |
| Match 2 Numbers + Bonus | £10 |
Note: the prize tiers were changed in July 2012, and again in May 2013 - more details about these changes below.
Health Lottery Launch
The game launched in September 2011 in a big blaze of publicity.
£20 Million was spent on marketing, with the aim that 98% of all adults in the UK saw an ad at least 28 times before the first draw even happened.
If you were in the UK at the time, you knew about the new game!
Tickets & Retailers
You can buy tickets for the game at over 40,000 retailers, including most supermarkets and some High Street retailers. Specifically so far Tesco, Asda, Sainsburys, Lidl, Morrisons, WH Smith and Clinton Cards have agreed to sell tickets.
Apparently this is already more locations than you can buy a National Lottery ticket in the UK!
You can now also buy tickets online direct from The Health Lottery here.
What Was The Launch Date?
The first draw was made on Saturday 8th October 2011. It was a live 50 second spot shown on ITV and Channel 5, and presented by Eamonn Holmes.
Changes To The Health Lottery
There have already been numerous few changes to the game since it launched. These were as follows:-
On 21st July 2012 the Match 3 and Match 4 prizes were reduced from £50 to £20, and £500 to £250 respectively.
This was originally a Saturday only game, but a Wednesday draw was introduced from the 17th October 2012.
The 13th May 2013 saw the introduction of a Bonus Ball and the corresponding extra prize tiers.
The reduction in the lower tier prizes, not surprisingly, proved unpopular with players. They felt it moved the goal posts.
The company said this change was to cover second chance prizes. But it's also possible that it was simply costing too much to cover all the fixed prizes on those draws where popular combinations had been drawn. Or perhaps both reasons.
What About Health Lottery Syndicates?
Online syndicates have been very slow in appearing. One amateur syndicate has already come and gone.
But there is one Health Lottery syndicate currently running and accepting players (it's also open to players all over the world).
And should the game achieve a really strong following in the UK, more syndicates are likely to follow.
Or you can also take a look at the other UK Lotto syndicates available. They mostly focus on the main UK Lotto game, and the ever popular EuroMillions of course.
More Lottery Questions Answered:-
EuroMillions Changes?
What Is A Lottery Syndicate?
What Countries Play EuroMillions?
Chances Of Winning The EuroMillions?
How To Play Euro Millions?