Review of 'Lotto By Text'
You'd be forgiven for thinking 'Lotto By Text' is a quick and easy way to play the UK Lotto and EuroMillions.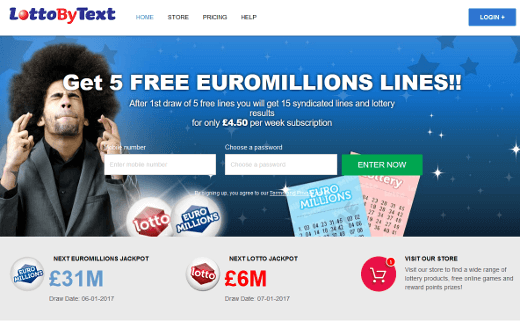 It looks great - you can join just by sending a text, and you even get a free trial.
But dig into the small print and, if you're lucky, you'll manage to spot what a terrible deal this is.
Only £1.50 Per Game
Yes, it's only £1.50 for 5 tickets... No it isn't!
It's £1.50 for a share of 5 tickets. Which would be fine, except you share with 48 other people!
So at £1.50 x 48, that's £72. And they buy 5 UK Lotto tickets at a total cost of £5.
This has to be the worst value for money syndicate I've ever seen.
If I were a little more cynical I'd be tempted to think this was aimed at text obsessed teenagers who a) don't realise what they are really getting, and b) may think they are getting around the 16+ rule on buying tickets (they aren't, they just won't get paid their winnings!).
Anything Else To Worry About?
I dislike how hard it is to find what you're really getting for your money. That feels misleading to me.
They also claim to pick numbers that are more likely to win, i.e. "the numbers we select have a greater likelihood of winning because we use mathematical models to select the next most likely outcomes". Given all selections are equally likely, this is fundamentally impossible.
We also tried multiple times to get a response from the company before publishing our review, but sadly they don't seem to reply.
Conclusion
Great website, nice idea but shockingly bad value for money. Plus terms and conditions that seem designed to avoid revealing what you're really getting for you money.
So please avoid this one, and make sure your kids do too. There are much better UK Lottery Syndicate and EuroMillions Syndicate options available, that are far better value for money.
Similar Lottery Syndicates:-
Love My Lotto Review - can't decide which draws to play? With LML you can simply play them all.
You Play We Play Review - play every draw or play just once, it's up to you.
Big Fat Lotteries Review - lots of pro experience with this one. You pay more but you can see why.
Lotto 28 Review - an amateur group, as the website shows, but a decent one.
WinTrillions Irish Syndicate Review - fancy some luck of the Irish? It's a game with pretty good odds and a decent sized jackpot.