Review of 'Texas Lotto Club'
This Texas based syndicate plays the original 'Lotto Texas' game. They have a nice additional twist though, in that they only enter numbers when the jackpot reaches a particular size. After all, if you're going to share a jackpot, you might as well share a bigger one!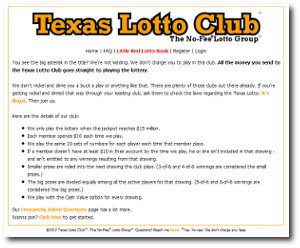 The Game
Lotto Texas is a twice weekly 6 balls from 54 game, giving odds of 1-in-25,827,165 for the jackpot.
Originally the group played when the jackpot hit $30 Million, but this has now been reduced to $15 Million. The jackpot starts at $4 Million, but does rollover frequently. So it can take a month to build up to a playable jackpot, but you could then be playing every draw for a month or two until the prize goes. Hopefully to you of course.
How Does It Work
Each player pays $10 every time the group plays, and chooses 10 sets of numbers. There are no charges - the owner, David, says that any kind of fees would actually be illegal in the State of Texas. And he plans on winning the lottery anyway.
So each player is effectively funding 10 entries, which are all pooled together. There used to be a 100 player per group limit, but it's not clear if this still applies.
You can request that copies of the ticket including your numbers is scanned and provided to you. But this only applies to your 10 sets of numbers, and is also fairly strongly discouraged. This would of course be unacceptable in a professional syndicate, but it's worth remembering there are no fees here at all so this is effectively a volunteer effort.
The bigger wins are paid back to members of course - but the smaller prizes are reinvested to buy extra tickets for the next big draw - which is worthwhile as it saves on admin costs and gives everyone a better chances next time round. Small prizes are the Match 3 and Match 4 wins.
Joining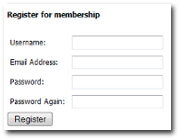 You can register online, but will need to send payment by regular mail.
There is a minimum starting payment of $50 to credit your account, so tickets can be bought as and when the big jackpots happen. Payment can be made via Check or Money Order.
Conclusion
A decent syndicate option if you want to play 'Lotto Texas'. The lack of charges makes this great value of course. But you will need to weigh this up with your own comfort level of trust and transparency where the lack of publishing tickets bought is concerned.
You may also want to check first how many are actively playing before you join.
Click Here For
'Texas Lotto Club'
News:-
24 August 2015 And it's gone again.
25 Nov 2012 Well, it did close. But has risen again and is now back up and running.
10 Oct 2005 Looks like the Texas Lotto Club has now closed down.
Similar Lottery Syndicates:-
Powerball and Mega Millions Syndicate - for US players who prefer the big prize games.
Florida Lotto Magic Review - play Florida Lotto with an option for Powerball too.
LottoLishus - a different way of pooling for players who want to play the US Mega Millions and Powerball.
Mark
2007-03-21 Updated:
2012-11-25