Review of LottoLishus

For Powerball & Mega Millions

This is definitely not your usual kind of lottery pool. But these Fresno, California based guys do offer a convenient way to play MegaMillions and Powerball online.

It basically costs $2 a week for membership, plus your normal ticket costs. So $4 per week to play Mega Millions, $6 per week for Powerball - or $8 per week for both. That's playing both weekly draws for each game of course.

Membership is open to 'anyone over 18 in the Universe' - these guys have a bit of a 'space' theme, and a slightly wacky sense of humour going on as you'll see.
An Unusual Approach To Pooling
So here's where things get very different to your normal pool/syndicate.
There are 2 types of pool within LottoLishus. There's one made up of the global membership, that creates random prizes, referred to as 'Meteor Strikes'. And there's the one you can optionally build yourself by telling friends.
This will probably make most sense if we break down how winnings are allocated...
The Prize Split
All prize money is paid out to the members as follows:-
50% of the prize is paid to the person who picked the winning numbers.
Then 25% of the prize is split into 5 shares, and awarded to whoever introduced that member to the pool - spread out to 5 'rings'.
With the remaining 25% again split into 5 shares, but then randomly awarded to 5 other members. These are referred to as 'Meteor Strikes'.
So there are actually 3 different ways you can win. You can pick the winning numbers yourself. Or you can introduce a player who wins something (or they introduce a player who wins something etc). Or you can just get a share of any other members prize!
This makes it a little hard to pin down exactly what your chances of winning are of course. But the more members there are the more chance of prizes being won, which in turn means more 'Meteor Strike' prizes and a better chance of you getting one. The size of which could be anything from 40c to literally millions of dollars (we've picked up a whole bunch of these just by being a member)!
But you can also boost your odds of winning by telling other people about the pool. This is entirely optional of course. But the fact this goes out to 5 rings of people means it could greatly increase your chances of a prize too.
What Do We Think?
It's still fairly early days for LottoLishus. But they have been live and reliably playing the big games since the beginning of October 2014 now. So they have ironed out any of the usual start-up glitches.
The concept overall is pretty good. And the cost is reasonable too. Particularly when you take into account the convenience provided by online ticket buying - which is not something most States in the USA provide.
The fact it doesn't give a fixed, known increase to your chances of winning may be a bit disconcerting for players used to a traditional lottery pool. But if you know other people who like to play online too, introducing them can give you some element of 'knowing your odds'.
You can join online and payment is via all the usual debit/credit cards. We like this one, and suggest you give it a try if you like either of the two big US games.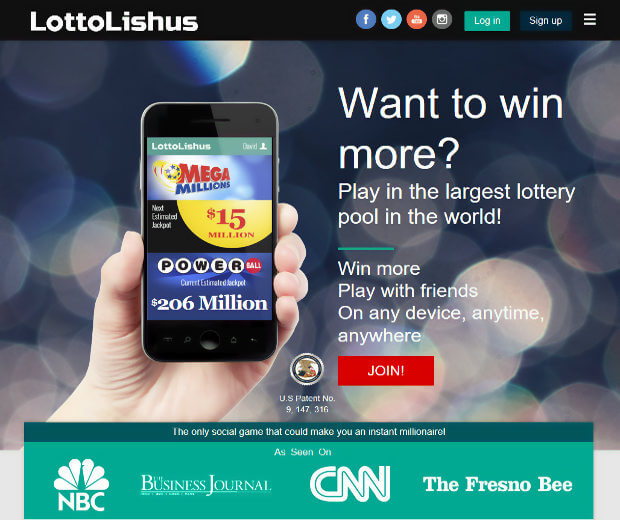 Latest News:-
23 March 2018 Troy B. of Queensland matches 5 of 6 (oh, so close!), Troy gets $5,688.50 and ten other members $568.80.
9 April 2017 Latest winners stats for the week commencing 3rd April.
21 Feb 2017 And here's even more Lottolishus winners stats. These are winnings for the week commencing 13th February.
30 Jan 2017 More stats, because you just can't have enough stats right? Winnings for the week commencing 23rd Jan.
24 Jan 2017 An update on their latest winnings stats for the week commencing 16th Jan.
14 Nov 2016 Another close call alert - Paul from Chapel Hill, NC was just 2 numbers away from a jackpot. He banks $595 for now, and is looking forward to the next win.
27 Aug 2016 The 'WINNINGEST' member so far is revealed - Tracy from Fresno, with an amazing 4,837 wins.
1 Aug 2016 Close call alert - member Donald from Springfield missed out on the $478 million jackpot by just 2 numbers. He still collected $296 so he isn't complaining too much.
2 Oct 2015 LottoLishus celebrate their first birthday - 1 year old today.
2 Oct 2014 Now live, here's the results of their first Powerball draw.
17 Aug 2014 Mike Briggs at Central Valley Talk interviews the owners.
11 Aug 2014 A short feature in thebusinessjournal.com
25 Jul 2014 Owners David Hardcastle and Mark Lane featured in The Fresno Bee.
Similar Syndicates:-
Big Fat Lottos - a well established professional company offering traditional pooling options for Powerball and Mega Millions.
WinTrillions Mega Millions Syndicate - an option for players in the USA who like the big prizes.
Lotto Magic Review - based in Florida, with various US games on offer.

by
Mark
2014-07-21 Updated:
2015-01-21