El Gordo de Navidad Syndicate Review
It's time for that crazy annual Spanish party again. El Gordo de Navidad hits on 22nd December. And prizes of more than €2.2 BILLION are up for grabs - including HUNDREDS of jackpots alone.

The El Gordo Spanish Christmas lottery (as it's better known outside of Spain) is a monster lottery draw of insane proportions.
But it's usually a huge pain in the backside to play.
Partly because the ticketing system is a little more complex than most lottery games. But also because you can only officially buy tickets from a lottery retailer in Spain.
And unfortunately many online ticket sellers take advantage of that. So prices tend to be ridiculous because players don't realise what they are actually buying.
Which brings us to the El Gordo de Navidad syndicate from 'Play Lottery'.
'Play Lottery' have been running Spanish lottery syndicates for many years. They actually cover all 12 of the big monthly draws in Spain.
What Monthly Draws..?
Most players outside of Spain have heard of the Christmas El Gordo draw but aren't aware of all the other big monthly draws. The Christmas draw is still by far the biggest. But the January and Summer draws are pretty darn huge too.
The Syndicate Groups
Each syndicate group is made up of 50 people, and costs a straightforward £25. The group shares 10 'decimo' bets.
Normally in Spain each 'decimo' costs €20. So whilst this might seem a little expensive, it's actually far better value than the online ticket sellers.

Many will be familiar with OSA ('Overseas Subscribers Agent') who send lots of junk mail to sell lottery tickets.
This year they are charging €20 to be part of an El Gordo syndicate of 100 people. And the groups only buy 10 decimos. That's more than twice the cost of playing with 'Play Lottery', and their winnings are split 100 ways too!
Some ticket sellers get a little closer in terms of value for money, but don't offer any syndicate options.
Bets are arranged to cover each possible last digit (0 to 9). Why? Because this guarantees at least one small prize per group - as you win something for matching that 1 digit.
This won't pay your entry cost if that's all your group wins of course, but it's better than nothing (and better than NOT doing it!). But obviously the aim is to be sharing one of the €4 Million jackpots. And there 180 of those to be won! Yes, 180 jackpots. Told you this game was insane.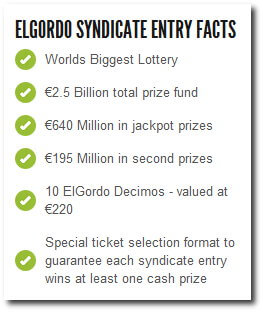 One little caveat to watch out for though...
You can just play the Christmas draw, but the syndicates will continue next month unless you send a quick email to cancel.
Don't worry though, there are no hoops to jump - one quick email is all it takes. Don't cancel too early though! (Actually, I'd recommend holding on for that January draw too though as that has a huge prize pool too, of €840 Million!)
The Draw Itself
El Gordo de Navidad is really more like a prize draw than a lottery. Only a fixed number of pre-numbered tickets are printed and made available - each one with a 5 digit number (which is then split into 10 parts - or 'decimos'). Each ticket looks like this:-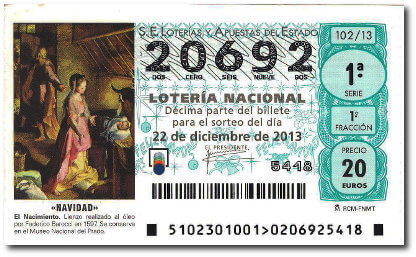 The prizes themselves are all fixed and guaranteed amounts too.
What that means for the Spanish though is that once the tickets are sold out, that's it, nobody else can play. It also means no 'sharing' of prizes, as you can't get an 'unknown' number of people all picking the same combination of numbers.
In Conclusion
OK, so we have a crazy once a year lottery draw, with a vast prize pool and a huge number of prizes. The ticket price is high for a lottery game, but it's a once a year punt with a ridiculous prize fund. So why not!
In terms of value for money, and straightforward odds, it's not the best game in the world. But who cares, it's insane and I love it. It's my Christmas present to myself and everybody else can buy me another syndicate entry too :-)
IMPORTANT: This is a 'raffle' type draw. A set number of tickets are printed so syndicate places are strictly limited! The prizes are drawn on 22nd December. But available numbers will sell out before then. Do not wait if you want to be included.
More about El Gordo:-
El Gordo Christmas Lottery
- more info plus a video of the crazy draw itself.
Spanish Lottery El Gordo
- Some behind the scenes footage of the draw giving just a hint of the mania that goes with it.
Similar Lottery Syndicates:-
Big Fat Lotteries Review - the pro syndicate with plenty of big game options.
Love My Lotto Review - put your eggs in lots of baskets with this one.
You Play We Play Review - pay only when you want to play.
Lotto 28 Review - an amateur syndicate for the UK Lotto.
Mark
2011-12-05 Updated:
2016-12-11