SuperEnalotto Syndicate Review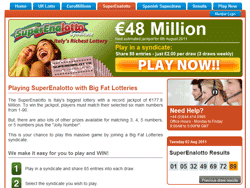 This SuperEnalotto syndicate comes from specialists 'Play Lottery' - who have many years of experience running groups, and provide syndicates for the UK Lotto, EuroMillions and the big Spanish games like El Gordo too.
The SuperEnalotto groups are open to players from all over the world (except the USA). But are mainly designed to provide easy access to this extremely popular Italian game for those outside of Italy.
SuperEnalotto is played 3 times a week, and this syndicate bets on all 3 draws. The cost is £2 per draw, making play £6 per week. You can play for as little as 1 week at a time.
The groups are sized at 85 players each, funding a total of 85 syndicate bets. Or in other words, 85 times the chance of winning. This is a game with very tough odds, so the larger group size is welcome.
Joining and Managing Your Account
Everything can be done online. All the normal debit and credit cards are accepted - as well as 'Moneybookers'.
Winnings are paid to your online 'e-wallet' after every draw. You can then withdraw funds any time you choose, by cheque or Moneybookers. 100% of winnings are paid back to the members of the group - there is no deduction from winnings.
'Play Lottery' have proven themselves as professional syndicate managers over the years. And they do have customer services people you can contact anytime during normal working hours.
So What Do We Think?
SuperEnalotto is hard to win. It's also difficult to access for those outside Italy. So a SuperEnalotto syndicate is a welcome addition to the market.
If you want to bet on SuperEnalotto, this is a good value option. You get professional syndicate management for your money, and of course a solid boost to your chances of winning something.
Latest News:-
1 Nov 2014 Good win for members of the Italian groups (read more).
Similar Lottery Syndicates:-
Big Fat Lotteries Review - highly experienced operators of all sorts of groups for big jackpot games.
El Gordo de Navidad Syndicate - fancy a little crazy Spanish Christmas lottery?
Powerball Syndicate - one for the fans of the big US games