Spanish Lottery Special Draws Syndicate
Most people know the Spanish lottery for El Gordo, the Christmas lottery draw with the outrageously big prize pool.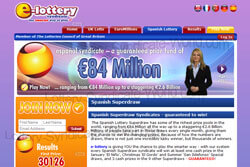 98% of Spain play in this draw - it's truly a national obsession. Mainly driven by the insane prize pool of over 2 BILLION Euros!
Special Draw Fever Grew...
Not content with one huge draw a year, Spain added more Superdraws. First a big Summer El Gordo draw, and then the huge El Nino draw in January. And now there is a special draw every month of the year.
None are quite as big and outrageous as El Gordo de Navidad - the Christmas draw - but even the not so special draws have Superdraw prize funds of at least 80 million Euros! The Summer El Gordo is typically around 150 million, whilst El Nino is an enormous 850 million. (And these guys play Euro Millions too..!)
The Spanish Lottery Syndicate
The new monthly Spanish syndicates have just been launched by elottery syndicate - the guys who have run an enormously popular UK Lotto syndicate and EuroMillions syndicate for years. So enough said about the quality and reliability - it's extremely good.
(They actually tested out the Spanish draws with the Christmas El Gordo for 2008. It proved insanely popular and sold out 3 times over!)
Available Worldwide
As with their other syndicates, the Spanish lottery groups are open to players all over the world. (Except for the USA where lottery players are not allowed to play in overseas lotteries! Maybe the new US president will fix that silliness?)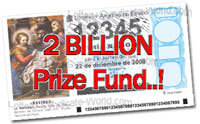 Superdraw Ticket Supplies Are Limited
The thing to remember with these special draws is that like El Gordo, there are a fixed number of tickets. Tickets are bought with a specific 5 digit number already printed on them. That means if supplies run out before you buy, that's it, you can't play. So being able to subscribe to all the monthly draws is of genuine benefit here. You never miss getting your tickets.
Syndicate Structure & Guaranteed Prizes
Each syndicate group is made up of 35 people who buy 10 tickets ('decimos') between them. Which of course means you get 10 times the normal chances of winning.
[Note: a decimo is one-tenth of a 'full ticket' - see El Gordo Christmas Lottery for more details on how Spanish lottery tickets work]
Tickets are selected for each group to cover all possible last digit numbers, i.e. from 0 to 9. As one of many ways you win is by matching a last digit, this guarantees a win every month.
Of course just matching the last digit would only be a small win, but it's nice to know you'll get at least something back even if you have rotten luck that month!
How Much To Play?
Normally a decimo ticket costs €20 if you bought in Spain, plus a little extra for the shops profit. That may sound a lot for a lottery ticket - but these are NOT normal lottery draws. These draws pay out a lot of prizes. And buying El Gordo tickets online you will see prices of at least €50 for a decimo.
[Note: Companies have to cover their costs AND make a profit of course, so a price greater than face value is perfectly fine - but watch out for the companies willing to charge 5 or even 7 times normal ticket prices!]
Each syndicate member pays UK£20 per month. That's about €21.50 at the moment (or just over €2 per decimo per month). So this compares well with other methods of buying tickets online.
It could be cheaper but you are getting a professional, reliable company to handle everything for you. And your syndicate managed for you too. So overall it is reasonable rather than spectacular value for money.
Conclusion
If you want to play for the massive jackpots from those monthly Spanish Superdraws, this is certainly a very convenient way to do it.
You get 10 times the normal chance of winning by sharing prizes between 35 people. This is a decent balance given the high price of tickets for these special draws.
Click here for Spanish Special Draw Syndicate
LATEST NEWS:
(11 Dec 2010) eLottery has now closed. The reasons why are not entirely clear.
(02 Feb 2011) Refunds have been issued for outstanding winnings.
(23 Feb 2011) More detail on why e-lottery closed down.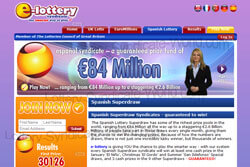 More about VWD:-
eLottery Car Competition Winner Announced, Feb 2010
Win A Mini With e-Lottery Golden Tickets
e-Lottery Winners Share £88,748 UK Lotto Win
e-Lottery Celebrates 5th Birthday
VWD News Bulletin: Big eLottery Win Dec 2006
VWD News Bulletin: VWD Growth Triggers Office Move
Similar Lottery Syndicates:-
Big Fat Lotteries Review
Love My Lotto Review
You Play We Play Review
Tips 4 Winning Review
Lotto 28 Review